The flowers are blooming. The birds are singing their tunes. Spring is back, and after a long dreary winter, we couldn't be more excited to welcome it. 
The problem is that most meetings don't welcome all of the elements that make spring special. Instead, attendees get stuck in windowless rooms that make you feel like it's just another dark, sad day. 
Make your attendees happy by embracing the season and making it a part of your next meeting. From the beautiful colors to the sunshine, there's a lot to make anyone's day brighter. 
Make it bloom
There is no better time for flowers than spring. After all of the gray and white, their colors pop that much more. Try having your event in a location that overlooks a garden of flowers for an instant mood lift for attendees. Instead of spending breaks in dank hallways, they can tiptoe through the tulips. 
For example, in addition to being a terrific zoo, the
Cincinnati Zoo
 is also an accredited botanical garden with ample meeting space. And in the spring, it hosts
Zoo Blooms
. Your attendees could get a boost from more than 100,000 tulips and other flowers throughout the zoo. That is one major dose of spring that can shake anyone out of their winter doldrums.  
Plan Outdoor Activities
There is nothing quite like a little sunshine to boost attendees' moods as well. So get them out there for bursts of activity to take advantage of the warmer weather. It can be as simple as just a walk. Or maybe provide a walking tour of the city. Or if you want to get a bit more creative, do a photowalk. Your attendees can hone their photography skills and really get to know the city in a unique way. 
Bring the Outdoors In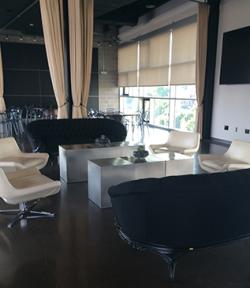 With unpredictable weather, hosting an event outside during the spring season can be a bit difficult. Instead of going through the hassle, look at ways that you can bring the outdoors inside. For example, just adding plants throughout your meeting rooms can be healthier for your attendees and bring that spring feel to them.
Or take it to the next level by using a room with floor to ceiling windows, so your attendees feel like they are outside. A great room with a view would be
New Riff Distillery's Tower Room
. Not only do you have great views of the city, but you can also open the windows to allow attendees to go out to the patio during warmer weather, which quite literally allows you to let the inside in. If the weather doesn't cooperate, you can simply keep the windows closed and still enjoy the vew.

Are you bringing spring to your meeting? How are you doing it?