Lately, event professionals are consistently pushed to host events at grander and more surprising locations. The name of the game is to make your event stand out and feel special. 

And that's why you need to take a look at art museums. 

There is nothing quite as grand as being surrounded by priceless works of art, and there's nothing quite as special as being in the same room as a world famous exhibit. But there is so much more about an art museum that can make your event memorable.
Affordability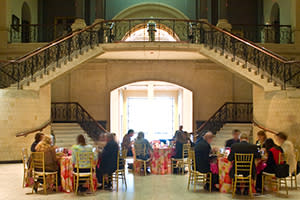 The first thing you think of when you think of an art museum? It's probably expensive, right? Not necessarily true. 
The Cincinnati Art Museum actually has a wide variety of spaces that are both big and small. So you do not have to rent out the entire museum. You can rent out the room that suits your needs and budget. That means you can have the prestige of having an event at the Cincinnati Art Museum without the huge price tag. 
And then there's the decor. With a space already filled with beautiful artwork, the decor for your event could potentially be as simple as some creative lighting. That's a huge budget-saver as well. 
Coordinate with exhibits
Did you know that your event can coordinate with a museum to bring in an exhibit that will connect with your attendees?
For the 2016 NAACP Convention, the Cincinnati Art Museum is bringing in the 30 Americans exhibit which will highlight African-American artists from the last three decades. It is an obvious fit for this conference, and there might be an exhibit that is just as perfect fit for your conference. With enough notice, a museum can even help coordinate bringing in works that will compliment your event. 
But the perhaps you have a smaller event that is not looking for as grand a gesture. Many times, exhibits are already on the schedule that can easily be turned into an educational opportunity for your attendees or just a beautiful place to network. In 2016, your attendees can talk how we worship cats on the internet today versus how Egyptians viewed them with the exhibit, Divine Felines: Cats of Ancient Egypt. Or you can discuss the importance of post-impressionism when Vincent van Gogh's, "Into the Undergrowth" comes to the museum. And these are just two of many special exhibits your attendees can check out next year. 
Artistically Inspired Food
Yes, the art looks amazing on the wall, but what if it were on your plate too? The chef at the Cincinnati Art Museum makes it a habit of amazing guests with food that is inspired by the art that surrounds him in the museum. So not only does it taste fantastic,  but it also is creating a memorable experience where your attendees are truly interacting with the artwork. And your attendees are going to love talking about that time that they ate a famous painting.
What has an art museum brought to your event?