There are so many great things to do in the Cincy Region this month. September may mean the end of summer but that doesn't mean things are slowing down. Not even a little bit. With festive fireworks, fun festivals, exciting sporting events and so much more, September is packed with things to do. Make the most of the last days of summer and the first few days of fall with these top things to do in Cincy this month. 
September festivals in Cincy
From Labor Day events to Oktoberfest, check out the best fests in Cincy this month.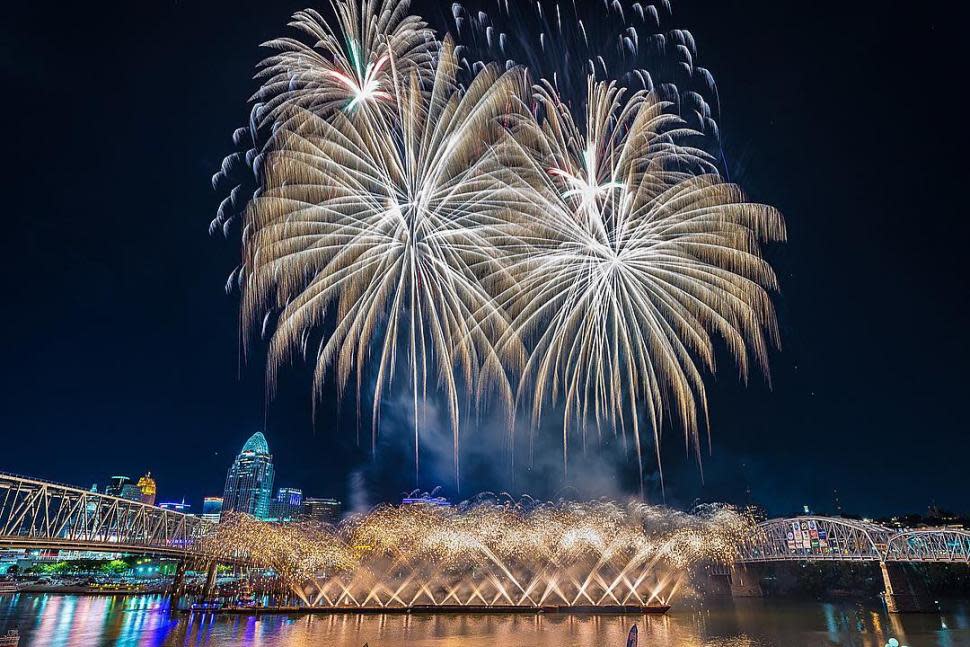 WEBN Fireworks at Riverfest
Covington Oktoberfest (9/8-9/10): This incredibly popular festival returns to Goebel Park in Covington's Mainstrasse Village for a weekend packed full of fun. Since 1979, friends and families have joined local crowds to celebrate the region's rich German heritage and culture. Beer, live music, food, and fun will be flowing through the streets to celebrate this time-honored tradition. Don't miss a single second of Oktoberfest fun, check out this complete list of Oktoberfest celebrations in the Cincy region. 
30th Annual Ohio Renaissance Festival (Weekends through October and Labor Day): Time travel to Waynesville and experience the Middle Ages and 16th-century England as you mix and mingle with royalty, peasants, jugglers, storytellers, and hundreds of costumed performers. Enjoy a wide range of Renaissance activities including games, sword-fighting shows, human-powered rides, jousting tournaments, arts and crafts, shopping, and so much more. Feast on Renaissance food and drink including giant turkey legs, bread bowl stews, hearty ales, and more. Themed weekends throughout the season. 
Western & Southern Riverfest (9/3): Send summer off with a bang this Labor Day Weekend by attending the largest firework display in the Midwest. Head down to Sawyer Point and Yeatman's Cove in downtown Cincy for a mid-day festival as you await the spectacular fireworks display high above the Ohio River. Local food vendors and live music only add to the fun. Join the nearly half-million festival fans as Rozzi's Famous Fireworks dazzle the night sky while WEBN (102.7 FM) plays music perfectly in sync with the show. 
Labor Day and Riverfest Fireworks Cruise (9/3): All aboard BB Riverboats in Newport for the best views in Cincy for one of the largest fireworks extravaganzas around. Enjoy music from WEBN and spectacular pyrotechnic choreography as you experience Riverfest floating on the mighty Ohio River. There's even a dinner buffet, dessert, and a snack buffet during the grand finale of the fireworks show.
September Summer Music Festival (9/21): Bring the whole family out to enjoy a night of live music, presented by Saffire Express, at Ault Park–a Cincy tradition for more than 20 years. This free event features local favorite food, craft beer, wine, and more. Kids' entertainment by The Cincinnati Circus Company and Beech Acres is from 6 p.m. - 9 p.m. 
Cincinnati Moon Festival (9/30): This annual event for the whole family celebrates the Cincy Region's Chinese community, its time-honored traditions, and the arrival of the autumn harvest moon. This free event at Fountain Square showcases the traditions of Chinese culture along with some fun activities, delicious food, and unique exhibits. It's fun for the whole family so don't miss the festivities.
September sporting events and outdoor activities in Cincy
Cheer on your favorite sports stars at these Cincinnati sporting events!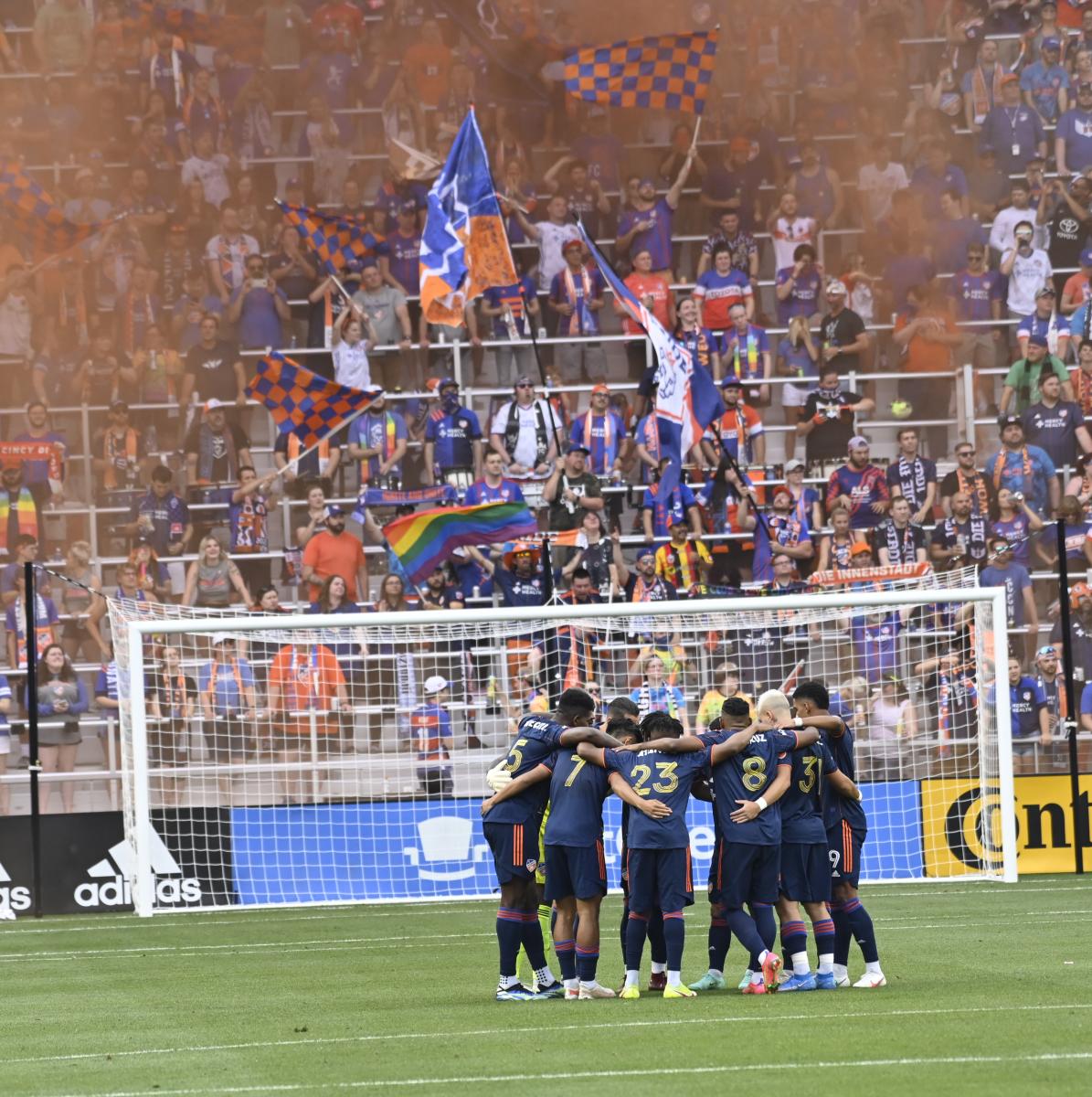 FC Cincinnati
FC Cincinnati (throughout September): Soccer season is going strong and it's an exciting time to watch Cincy's newest professional sports team in action.  FC Cincinnati plays Orlando City FC (9/2) and the second home game is against Charlotte FC (9/23)  Come out and cheer on the orange and blue. Here's all you need to know about attending an FC Cincinnati match,
The Queen City LPGA Event (9/6-9/10): Ladies' golf at its finest returns to Cincy for this championship tournament. Venture out to the Kenwood Country Club to watch some of the most talented women in professional golf today–including Ally Ewing, the defending champ. Don't miss a second of the action in this five-day tourney. You can buy general admission tickets by the day or for the entire week. Find out everything you need to know about this year's tournament in our insider's guide.
Cincinnati Bengals: The Who Dey Nation can celebrate in September because the Cincy Bengals have two home games. Watch the Bengals take on the Baltimore Ravens (9/17) and the Los Angeles Rams (9/25.) Seats are still available at Paycor Stadium but if you can't make it to the game catch all the action and cheer on the home team at one of Cincy's many bars and restaurants.  
Cincinnati Pride 5k (9/16): The 2nd Annual Cincinnati Pride 5k Run/Walk at Lunken Playfield Loop begins at 8 a.m. with registration and the race starting at 9 a.m. Virtual participation is also available. The event is open to everyone. Once you cross the finish line, head to the afterparty at Streetside Brewery on Eastern Avenue. Pride Flights will be available with $1 donated to Cincy Pride. Craft Burger Bros. will be serving up some post-race specials. Check out more races in Cincy in September and beyond. 
9/11 Memorial Stair Climb (9/11): Hosted by the Blue Ash Fire Department and Firefighters Local 3203, this event will start with a remembrance ceremony at 8 a.m. in Summit Park to honor those who lost their lives in the terrorist attacks on Sept. 11, 2001. Participating first responders will climb the Observation Tower to commemorate the 110-floor climb in the World Trade Center that the New York firefighters made to rescue victims. The public is invited to attend the ceremony, visit the memorial display and museum, and cheer on climbers. 
September food and drink events in Cincy
Savor Cincy's delicious food and drink scene at these food tours and events this September.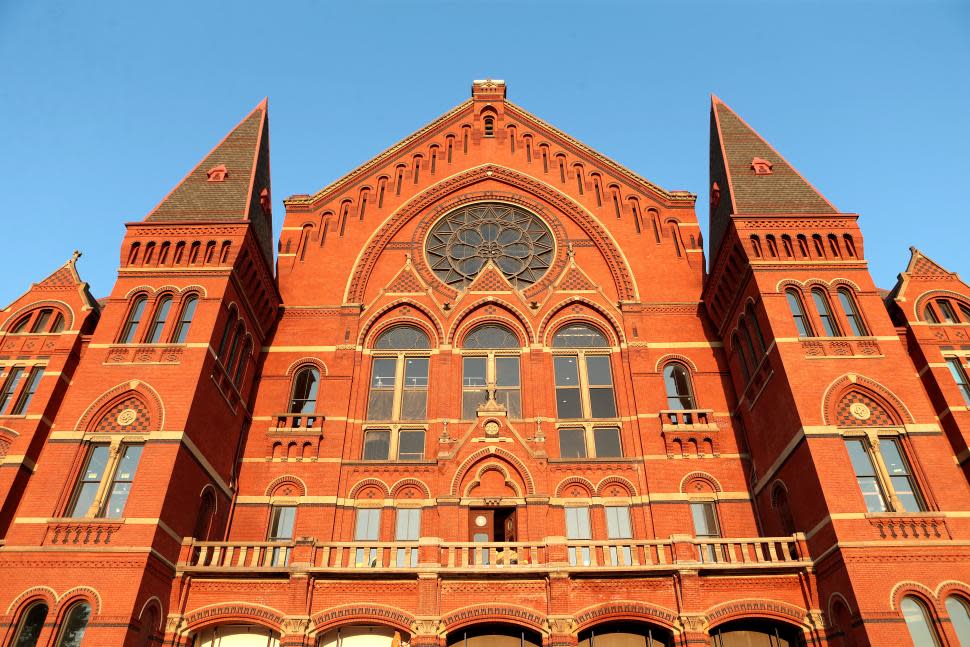 Music Hall (photo: Mark Lyons)
Bricks and Beer: Cincinnati Music Hall History and Hops (9/6): Friends of Music Hall join Rhinegeist Brewery for one of the most unique tours in Cincy. Learn how the Cincinnati beer industry led to the development of Music Hall as you tour the historic building and enjoy a variety of beer selections. 
The Roebling Bridge Food Tour (Thursdays through October): Check out views of the breathtaking Cincinnati skyline from the other side of the Ohio River and experience a unique lunch featuring five local favorites. Join this Thursday lunchtime Roebling Bridge Tour and explore the Riverside Licking Drive neighborhood–a little-known gem full of spectacular views. You definitely won't leave hungry but you might leave amazed at what you've learned during your 3-hour tour.  
Hyde Park Farmers' Market (May through October): Widely regarded as one of the best Cincy farmers' markets, this Hyde Park gem on the Square is the pride of the community. Choose from a wide variety of seasonal fruits, veggies, herbs, eggs, cheeses, fresh-cut flowers and so much more. But don't miss it because it's open only on Sundays from 9:30 a.m. to 1 p.m.  
Forager Fest (9/15): Did you know that the forests are full of edible delights? Head down to the Cincinnati Nature Center to celebrate the abundant bounties found this time of year in nature. This adults-only event features live music, select foraged beer samples from local breweries, foraged sweet treats, and a foraging "walkabout" to see what is growing in our woods. Food trucks, as well as beer and wine options, will be available throughout the event. 
Family fun things to do in Cincy this September
From classic cars to Bluey on stage, the whole family will have a blast at these Cincy events.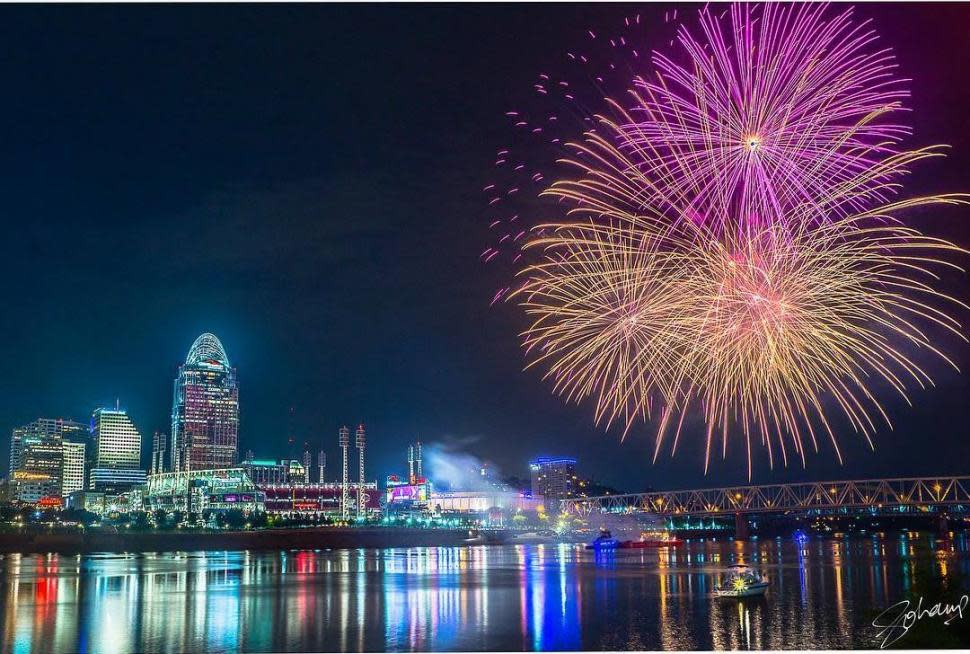 Fireworks at Great American Ball Park (photo: @sohamparikh1)
Lunken Airport Days Celebration (9/2-9/3): Don't miss the chance to climb aboard an original World War II B-29 Doc aircraft and fly the friendly skies in other models of airplanes and helicopters this Labor Day weekend. Exhibitors and food trucks will be available, along with fun activities to honor all veterans. Classic cars, military aircraft, and vehicles will also be on display at this event at Lunken Field in Cincy.
Cincinnati Reds Fireworks on Fridays: Cheer on the team and stick around after the game for an amazing fireworks show. There are plenty of home games this month as the Reds play host to the Chicago Cubs, Seattle Mariners, St. Louis Cardinals, Minnesota Twins, and the Pittsburgh Pirates. Check out the schedule for the game dates and times, and the schedule for special kids' events. 
Bluey's Big Play: The Stage Show (9/19-9/21): Everyone's favorite Heelers are coming to Cincinnati in September! Join Bluey, Bingo, and all their friends at the Aronoff Center for their first live theater show featuring brilliantly created puppets in this theatrical adaptation of the award-winning children's cartoon series. 
Disney Jr. Live on Tour Costume Palooza (9/21): This entertaining show brings beloved Disney Junior characters and favorite Marvel Super Heroes live onstage at the historic Taft Theatre in downtown Cincy for a concert-style show that is fun for all ages. Join Mickey, Minnie, and their pals as they get ready to throw a huge costume party–until everything goes wrong! Now who will save the day? Come see for yourself and don't miss a minute of the fun. 
Kings Island Halloween Haunt (9/22-9/23; 9/29-9/30; every weekend through 10/28): Voted the "Best Theme Park Halloween Event" in 2022 by USA TODAY readers, Halloween Haunt opens this month and promises to be the most immersive and haunting Halloween event in the Cincy. The park features scare mazes and scare zones, sinister live entertainment, and hundreds of horrifying creatures roaming the park. Night-time rides on The Beast, Orion, Diamondback, and many others truly make this one of the most unique Halloween experiences. Note: Halloween Haunt is not recommended for children under 13. For more Halloween fun, check out this list of family-friendly Halloween events in Cincy.
Paws in the Park (9/23): This unique dog-focused event in Blue Ash at Summit Park has something for everyone–whether you walk on two legs or four. Our furry friends can participate in lure chasing, frisbee demos, agility courses, and much more while their humans can shop 'til they drop and fill up at the food truck station. 
September shopping events in Cincinnati
Shop local artists, makers, and antiques at these markets and art shows.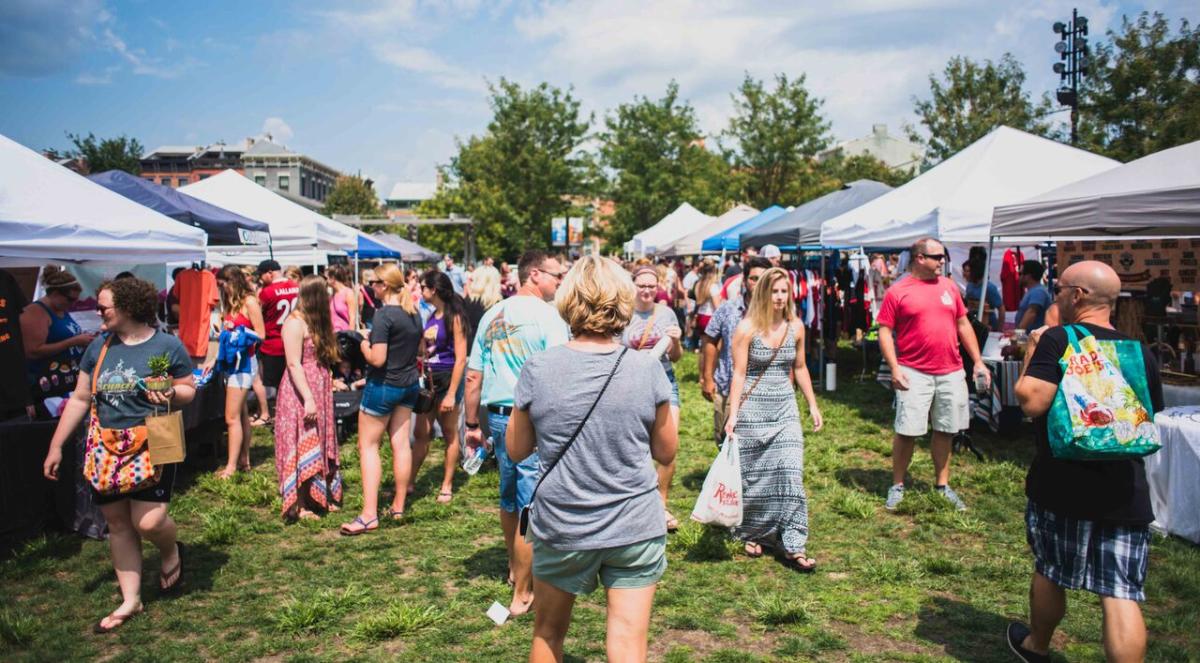 City Flea
Art on Vine (9/2): This monthly art show is at Court Street Plaza in downtown Cincinnati from June to October and features fine art and handmade goods from more than 80 artists from throughout the region.  This one-of-a-kind art show that started off as a college project with only eight local artists has blossomed into one of Cincy's most unique art shows. It's a great way to buy a piece of original artwork and support our local artists and the community at the same time. 
Tri-State Antique Market (9/3): More than 125 dealers will be on hand with everything from early 19th-century primitives to 1970s Pop Art.  Located in the Lawrenceburg Fairgrounds in Indiana, this nearly 40-year-old event is one of the region's largest antique and vintage markets, and one you definitely don't want to miss. 
The O.F.F. Market (9/9): The monthly pop-up market in Summit Park unites small businesses, artisans, brewers, bakers, farmers, and more for a unique shopping experience. Come out and support the local economy and small businesses, and bring the whole family because there's lots to explore nearby.
City Flea (9/16): Located in Washington Park, the City Flea is Cincy's original curated, urban flea market. This monthly event features vendors and hobbyists from across the region.  As you stroll through this lively market, you will not only keep your money local but also support small businesses in a big way. 
Glendale Craft Fair and Yard Sale (9/16): Experience treasure hunting at its best during this unforgettable shopping event in Glendale in North Cincy. There's a huge selection of unique pieces from local artisans and vintage pieces.  
Burlington Antique Show (9/17): Stroll through the rolling bluegrass pastures of the Boone County Fairgrounds in NKY for one of the Midwest's best antique and vintage collectibles shows featuring more than 200 dealers. This monthly show from April to October is celebrating its 42nd year in operation. You'll want to check this one out!
Don't miss a single second of fun this September. Check out our full Cincinnati events calendar for everything happening this month in Cincinnati and Northern Kentucky. Start planning your Cincy adventure now!