Spring is finally starting to show itself in the Cincy Region, and with the warm weather comes events every week and fun things to do in Cincinnati. From kid-friendly shows, exciting sporting events, or food festivals to satisfy your appetite, there's so much happening in Cincy during the month of April!
 Things to do in Cincinnati this April for sports fans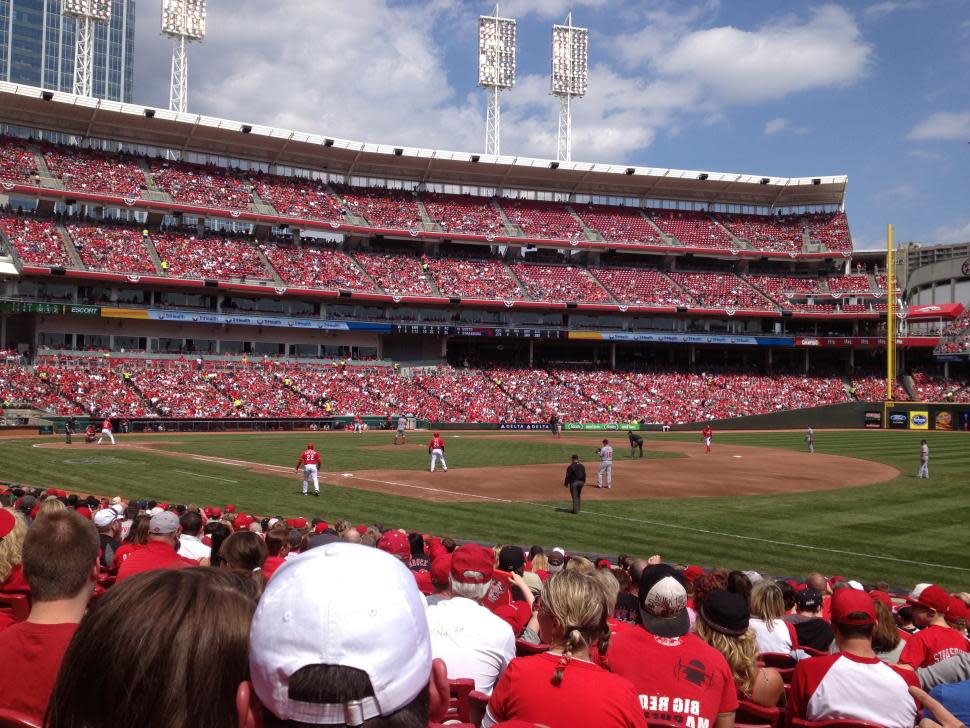 Cincinnati Reds: Opening day was a blast, now get your friends and family together and head down for a baseball game at Great American Ballpark! There aren't many things that feel more like spring than a ballgame!
Monster Jam (Saturday, April 15, 1 p.m. and 7 p.m.):  If you want to bring out the kid in you, or delight the kids in your family, Monster Jam is a blast and a great way to spend a few hours. If you haven't watched a 12,000-pound machine do a backflip, you need to make it happen.
FC Cincinnati (Throughout April): Soccer season is back in Cincinnati, and our newest professional team is winning new fans over with each match. The excitement of the MLS is unlike any other professional sporting event that you'll attend. See what the hype is all about!
Cincinnati Cyclones (First Three Weekends of April): This team has been thrilling the City of Cincinnati for decades, and are hoping to wrap up their season with some big wins. They only have a handful of games left - so make sure you check one out before you have to wait until next season.
Family-friendly fun in Cincinnati this April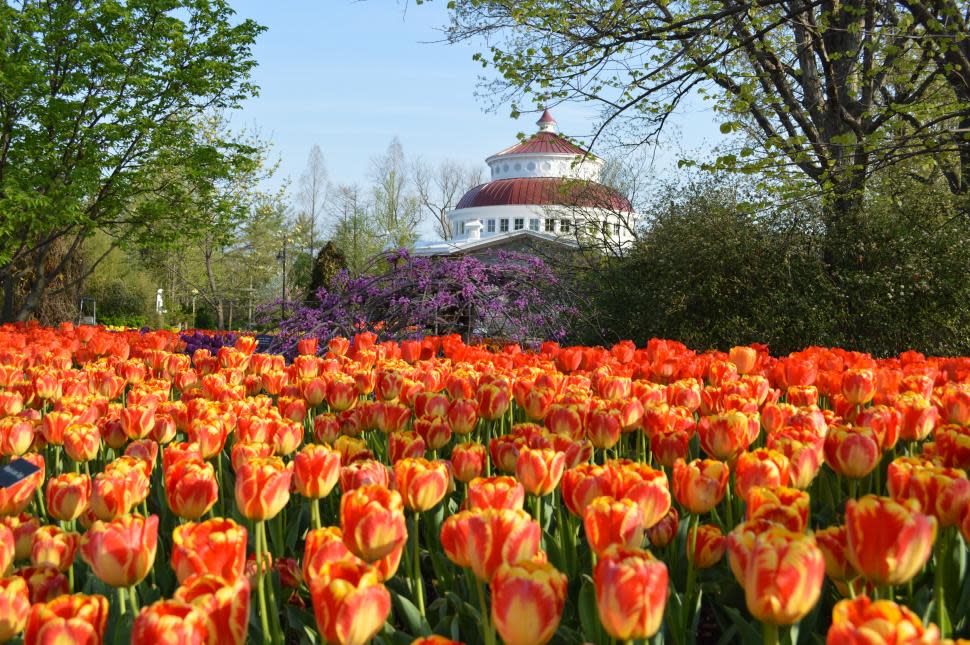 Zoo Blooms (Photo: Michelle Curley)
Zoo Blooms (Daily in April): The Cincinnati Zoo and Botanical Garden is celebrating the arrival of spring with a gorgeous display of spring flowers. Tulips, daffodils, hyacinths, flowering trees, shrubs, and other spring bulbs will delight the senses as they explode with color and remind you that the zoo isn't just about animals (though, they'll be there, too).
Easter Dinner Cruise BB Riverboats (April 9): What better way to experience the city of Cincinnati than with a cruise down the Ohio River on a riverboat? With two cruises on Easter Sunday, you'll not only get a wonderful easter buffet to enjoy, but you'll even get to meet the Easter Bunny, himself.
Bricktionary - Lego A To Z (Weekly in April): The Cincinnati Museum Center is celebrating the creativity of Lego with an exhibit that displays more than 150 different custom-built Lego models. You'll see everything from a life-sized Orca to a model of the Saturn V rocket. This event will change what you thought was possible with everyone's favorite childhood toys.
April food and drink events in Cincinnati and Northern Kentucky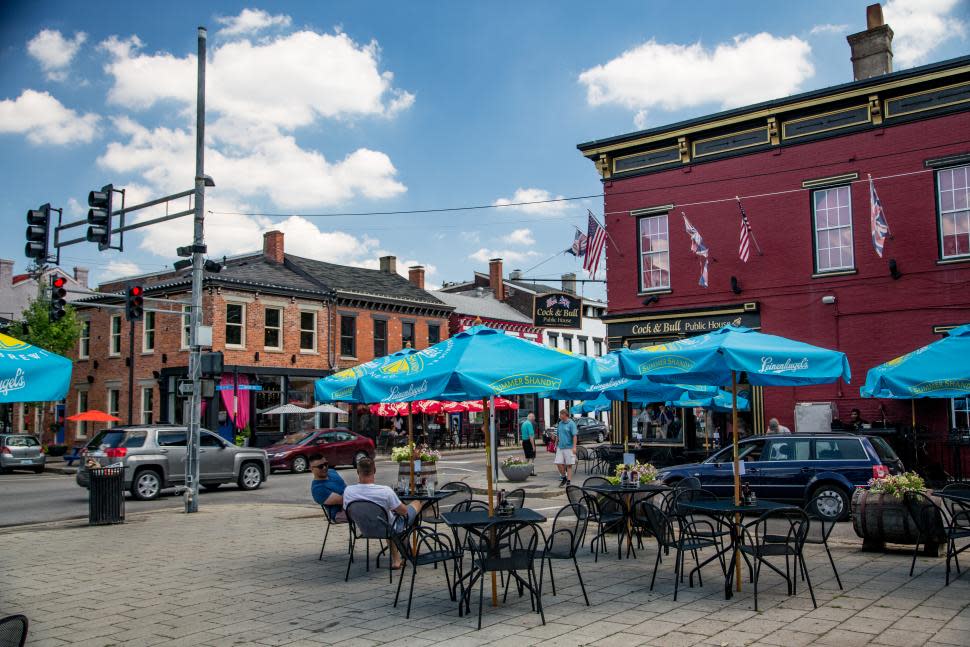 Mainstrasse Village
Candy Pop Up Shop (Weekly, Friday and Saturday): Cincinnati's Hard Rock Casino is hosting a cocktail event that all you sweet-toothed drinkers will want to check out. Themed rooms, DJs, specialty drinks, and of course some tasty, sweet confections are sure to give you a sugar rush that you'll want to tell all your friends about.
Ethnic Eats in Over-the-Rhine Food Tour (Saturdays in April): Cincinnati's Riverside Food Tours is hosting a three-hour walking tour through OTR that will not only be educational, but a great chance to check out some fun food, as well. You'll experience a peek into the history of the Cincy Region and some of the delicious food that makes Cincinnati so wonderful. From Hawaiian-inspired steamed buns filled with smokey BBQ to Lebanese baklava, you won't want to miss out on this one.
Mainstrasse Village Food And Culture Tour (Saturdays in April): Riverside Food Tours is hosting a great jaunt through Northern Kentucky's Mainstrasse Village. You'll make stops at five different restaurants to experience everything from pizza, German pretzels, and beer cheese, homemade desserts, and various authentic Kentucky dishes and beer samples. On top of the great food, you'll also learn more about the wonderful history of the area, visiting the 100-foot-tall Glockenspiel in Goebel Park and more.
Asian Food Fest (Saturday, April 29 11 a.m.-10 p.m. & Sunday, April 30 11 a.m.-8 p.m.): This free event showcases the vibrant Asian food scene in the Cincy Region on Court Street for one weekend only. Visitors will find a great tour of Asian foods, in the form of small plates priced from $2-$10. There will also be live entertainment, local craft and Asian beer, fun family activities, and more.
Arts and cultural events in Cincy 
Ensemble Theatre (photo: Ryan Kurtz)
Family Series: Beauty and the Beast (April 13-April 16): This show from the Cincinnati Ballet Second Company and students from the Otto M. Budig Academy brings the beloved story of Beauty and the Beast to life through beautiful dance, vibrant costumes, and engaging narration. It's a great show for the whole family to enjoy.
Disney's Moana Jr. (April 15-16, April 22-23): The Children's Theatre of Cincinnati brings the 2016 Disney animated film to life in this musical adaptation. With some of your favorite songs from the movie, and a thrilling and heartwarming coming-of-age story this puppet-centric version of Moana has never been done on stage before.
Who all over there? (April 14, 15, 21, 22, 28, 29): Find out what happens when cultures clash in the name of love. Cincinnati Ensemble Theatre brings an updated take on the classic Guess Who's Coming to Dinner to the stage. 
There is never a shortage of fun things to do in Cincinnati. This April is looking like it's going to be a great time to explore the Cincy Region. If you're looking for even more upcoming events in Cincy, check out our full events calendar.