Everyone knows Memorial Day Weekend is the unofficial start to summer—and Cincinnati sure does look good in the summer. Ballgames, live music, Pride events, arts festivals, and more will keep you busy all month long. With June already underway, it's crucial to have a plan to make the most of your time in Cincy. Here's a quick round-up of events happening in Cincinnati this week and every week for the month of June. Check out our calendar for a complete list of things to do in Cincinnati all year long. 
June festivals in Cincinnati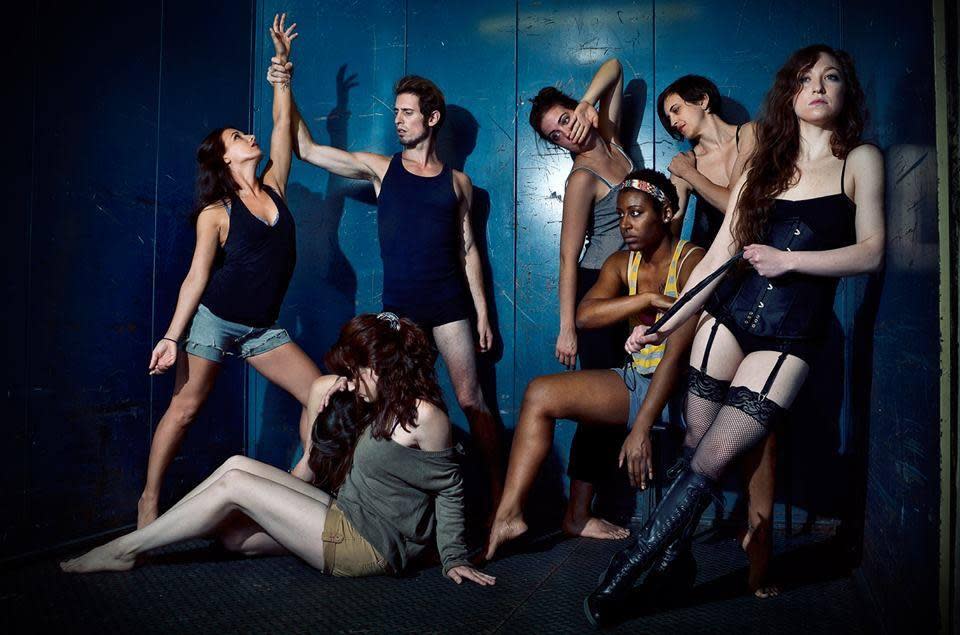 Pones Inc. at Cincinnati Fringe Festival (photo: Cincinnati Fringe Festival)
Cincy Fringe Theatre Festival (Tuesday-Sunday, June 2-17, 2023): Celebrate theater, art, music, film, dance, and everything in between at the Cincy Fringe Festival at Know Theatre and the Over-the-Rhine neighborhood. This summer theater party produced by the Know Theatre of Cincinnati lasts for two weeks and offers more than 170 performances, from the weird to the wonderful. 
Italianfest (Thursday-Sunday, June 8-11, 2023): Enjoy authentic Italian food at one of the region's largest celebrations of cuisine. The festival takes place along the riverfront in Newport, KY, and offers food and entertainment from internationally recognized Italian and local vendors and musicians, drawing more than 120,000 visitors annually.
36th Annual Juneteenth Festival (Saturday, June 17, 2023): The Cincinnati Juneteenth Festival is a free event in Eden Park that celebrates the Emancipation of American slavery. It begins with a parade of flags that leads into fun, family-friendly activities like horseback riding and historical reenactments. Then, enjoy food, art, vendors, and performances from multicultural acts and local artists. 
Rockin' Taco Festival (Friday-Sunday, June 23-25): The Rockin' Taco Festival is back for a third year with food, drinks, and entertainment to help you celebrate the flavors of Latin America. This family-friendly free-to-attend event takes place in the scenic Covington Plaza on Madison Ave. Rockin' Taco Festival is a family-friendly event with plenty of interactive activities for kids, like salsa dance lessons, fun inflatables, and more. 
Pride events in Cincinnati
June is Pride month, and Cincinnati certainly does not shy away from celebrating its LGBTQ+ friends, family, and visitors. There are a plethora of Pride events happening in Cincinnati this month, but here are a few to get you started.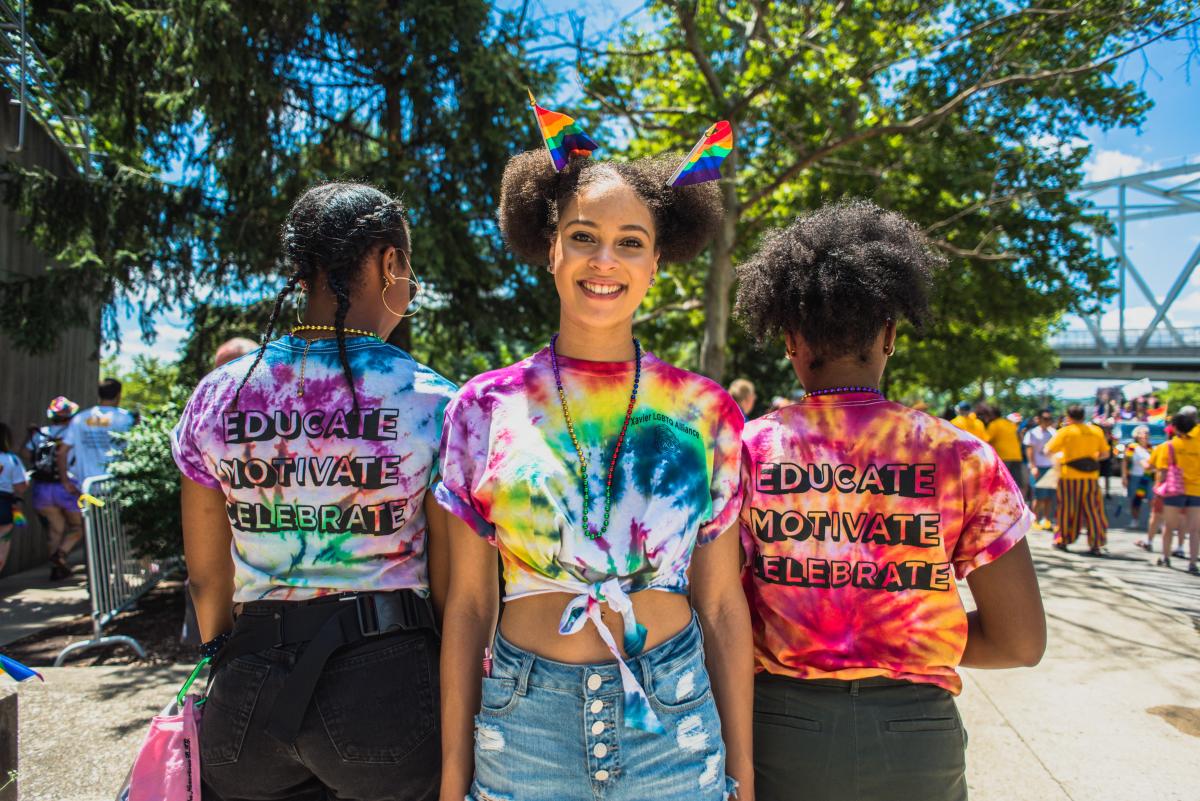 Adult Swim: Pride Edition featuring DJ Syimone (Friday, June 9, 7:00 PM-10:00 PM): Dive into the Ziegler Park Pool after hours for a 21 and up pride party hosted by DJ Syimone. Admission is $10, and "everybody and every body is welcome." Tickets are limited, and cash is not accepted at the door, so be sure to reserve your spot ahead of time. 
Improv Cincinnati Pride Night: Sketch Comedy (Saturday, June 17, 8:00 PM and 9:30 PM): Celebrate the outcasts and drag queens that started a revolution in 1969 and made the world a more beautiful place. Improv Cincinnati will spotlight LGBTQ+ voices in the comedy and sketch community, with a portion of ticket sales benefiting the Treehouse Cincinnati resource center in the tri-state area. 
Drag Bingo (Friday, June 23, 7:30 PM-9:30 PM): Get a head start on Pride weekend with Drag Bingo hosted by Aubrey Damned and Molly at BrewDog Cincinnati. Tickets are $10 and will give you a night of fun, prizes, and glamor. 
Cincinnati Pride Parade & Festival (Saturday, June 24, 12:00 PM-9:00 PM): Celebrate 50 years of Pride in Cincinnati with this year's Cincinnati Pride Parade & Festival. The parade starts at 11:00 AM at the intersection of Seventh & Plum and travels down Vine Street, ending at the festival in Sawyer Point & Yeatman's Cove. With plenty of vendors, activities, and performances all day long, this family-friendly event is a free must-visit event. 
Free things to do in Cincinnati this June
Budget-friendly events can be tricky to come by these days, but luckily Cincinnati has plenty of free events to keep you and your family busy this month. 
Washington Park (Photo: Byron Photography)
Opera in the Park (June 11): Everyone is invited to celebrate the start of Cincinnati Opera's 2023 Summer Festival with this free concert in Washington Park. Indulge in extraordinary opera and musical theater performances from this season's stars, the Cincinnati Opera Chorus, and the Cincinnati Symphony Orchestra. 
Rockin' the Roebling Concert Series (every Thursday): Modern music lovers won't want to miss local bands performing in front of the Roebling Bridge every Thursday at the Smale Riverfront Park's Schmidlapp Event Lawn.
Jazz at the Square (Tuesdays): If jazz is more your speed, head to Fountain Square on Tuesday evenings from 5:00 PM-8:00 PM. This series runs all summer long, so be sure to check the lineup to discover new names and catch local favorites. 
Cinema at Ziegler Park (Wednesdays through September): Movie lovers can enjoy a free flick in the heart of Cincinnati on Ziegler Park's two acres of green space. Bring a lawn chair and some snacks and settle in!
Cinema Thursdays at Washington Park (Thursdays through September): The lawn is open at Washington Park on Thursday nights for free movies all summer. Grab a drink at the porch, stop by one of the food trucks, or pack a picnic for a night of fun. 
Yoga on the Levee (Wednesdays): All skill levels are welcome to enjoy free yoga classes at Newport on the Levee Wednesdays at 6:00 PM. Take some cleansing breaths, enjoy the view, and stop by Wooden Cask Brewing after yoga for $1 off all beers, wines, and cocktails! 
June Sporting Events in Cincinnati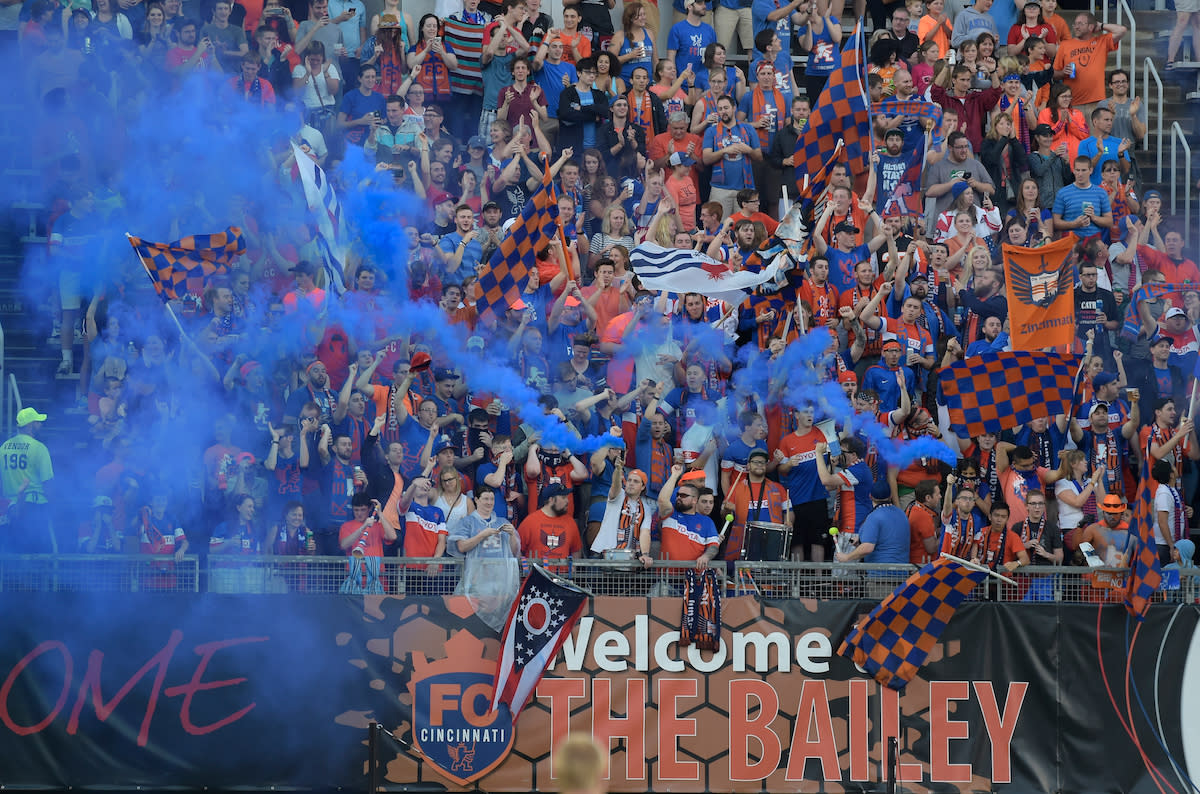 FC Cincinnati
Cincinnati Reds play at home several times this month. On June 7 & 8, they will take on the Los Angeles Dodgers. Then, June 19 – 21, they have a series with the Colorado Rockies, followed by a string with the Atlanta Braves June 23 – 25. Visit the official website of the Cincinnati Reds to learn more about their special promotions, like the Cincinnati Zoo Ticket Package for Tuesday, June 20, or the Hunter Green replica jersey giveaway on June 24. 
FC Cincinnati is currently leading the MLS Eastern Conference and will be playing at TQL Stadium on June 21 against Toronto FC as part of the MLS regular season. If you can't make it to the stadium, stop by one of the club's Pub Partners to watch with other fans in the comfort of an air-conditioned bar or restaurant. These establishments will screen the away games on June 10 against Vancouver and June 24 against DC. 
Florence Y'alls are playing at home June 9 – 11 and June 20 – 29 (except for Monday, June 26). The minor league baseball team with major style offers tons of family fun. Stop by June 9 to celebrate Pride Night with the team and receive a free Y'alls Pride shirt. June 21 is military appreciation night, June 23 is mascot Y'all Star's birthday, and June 24 is Margaritaville Night, full of beach vibes and sunshine. 
Start planning your adventure in Cincy!