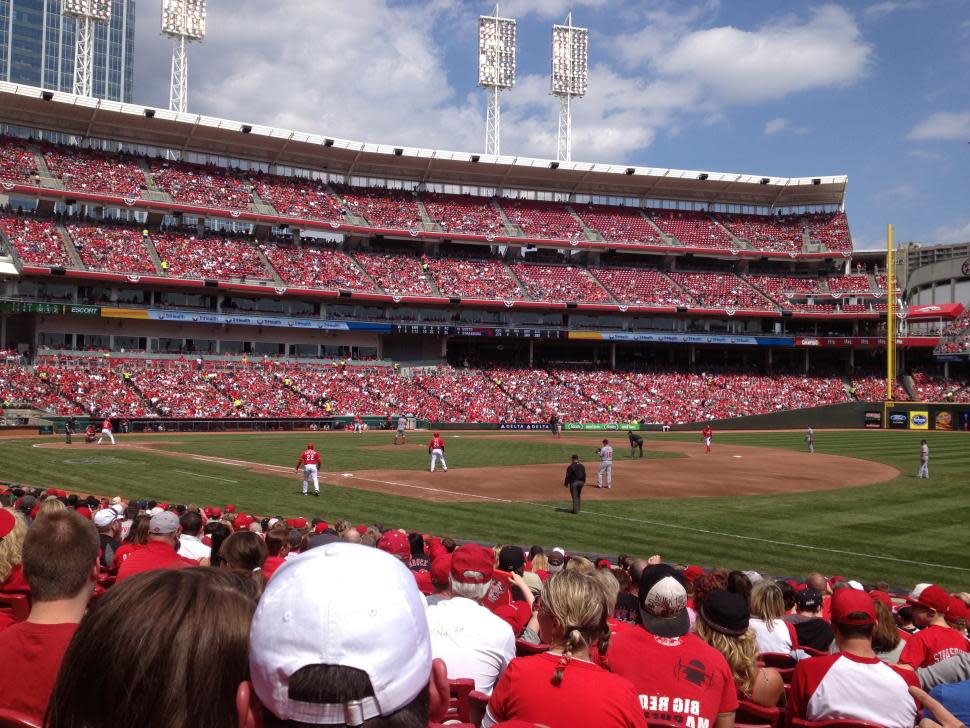 Ever since red stockings captain Harry Wright lured his 22-year-old younger brother to Cincinnati to play shortshop in 1869 — George was the best player in the country — the professional baseball team in the iconic red socks has been the Queen City's favorite sporting passion and family heirloom.
Bronze, but life-size and life-like, Harry and George are there to greet you today when you walk into the Reds Hall of Fame and Museum that is conveniently located next to Great American Ball Park.
For well over a century, the professional baseball team has had an indelible hold on Greater Cincinnati.
The Reds are Cincinnati. It is the team's legacy.
You may already be a Reds fan or at least a fan of the Cincinnati region. If not, there's room on the bandwagon. We'd love for you to hop on with us.
If you're not one already—a fan of the team and/or the region, that is—and you haven't been to a game, what better time to visit than now?
The Reds pull out the stops all season long to entertain you. For 81 dates every season (especially those since the Castellinis bought the franchise), it's been a party at Great American Ball Park.
Let's take a ride through Reds history and then go out to "GABP," as we know it here in the heart of Reds Country.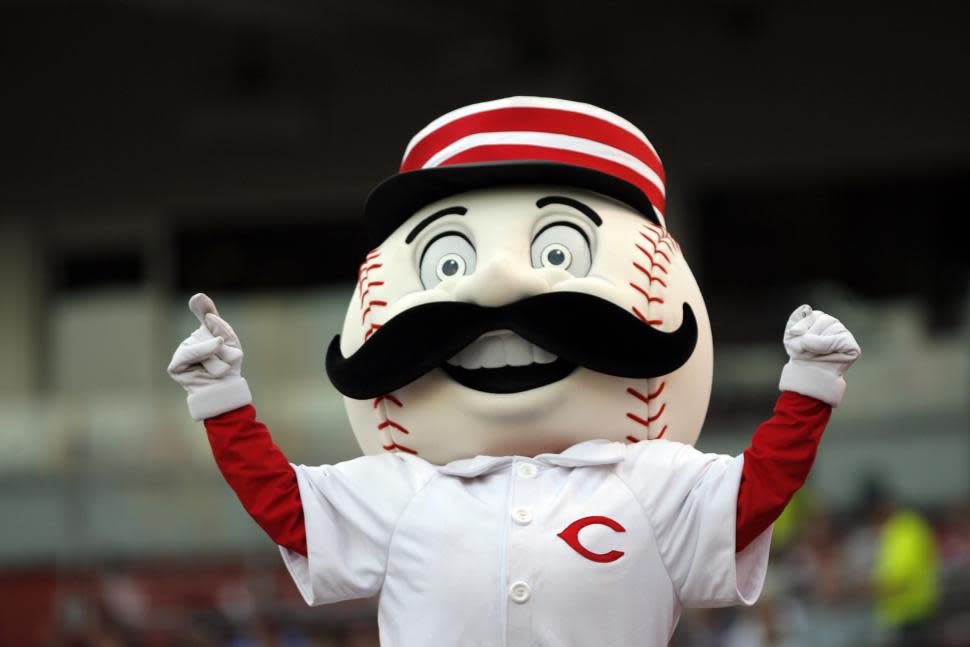 Reds are stitched in the region's fabric
Anybody who's been in the Cincinnati region for even a day knows that the Reds are as talked-about as the weather: "How'd the Reds do last night?" "Who are the Reds playing today?" "How 'bout dem Reds?"
It peppers our conversation. And here's why: Not only are the Reds the first professional baseball team, they are the country's first professional sports team. Think about that. We're proud of it, and we have every right to be.
Being first was just the first of firsts.
The Reds were also first to utilize long socks and knicker-style pants, with the manager wearing the same, a tradition that persists to this day (all in 1869); a clean, simple, modern-day scoreboard with players' names and positions, balls and strikes and scores of other games (1912); season tickets in the modern era, air travel and signifying ''hit or error'' on Matty Schwab's scoreboard (all in 1934); night game (1935); dragging the infield midway through the game (late 1940s); and an all-synthetic infield (1970).
Whew.
And that's just a partial list.
Reds Opening Day is celebrated as a holiday in Cincinnati. Really, it is. Streets around the ballpark close for a giant block party and the annual Findlay Market Opening Day Parade traverses the downtown streets ending at Great American Ball Park. The region embraces this fresh beginning for the upcoming season and the devotion to the team is apparent by the sold-out ballpark and sea of red fan apparel.
The Reds have played in nine World Series, won five (1919, 1940, 1975, 1976 and 1990), hosted five All-Star Games (1938, 1953, 1970, 1988 and 2015) and one president on Opening Day, and aren't done celebrating yet.
They have boasted 12 Most Valuable Players, 262 All-Stars and 12 National Baseball Hall of Famers.
Cincinnati Reds NATIONAL LEAGUE MVPs:
Frank Robinson - 1961
Johnny Bench - 1970, 1972
Pete Rose - 1973
Joe Morgan - 1975, 1976
George Foster - 1977
Barry Larkin - 1995
Joey Votto - 2010
Ernie Lombardi - 1938
Bucky Walters - 1939
Frank McCormick - 1940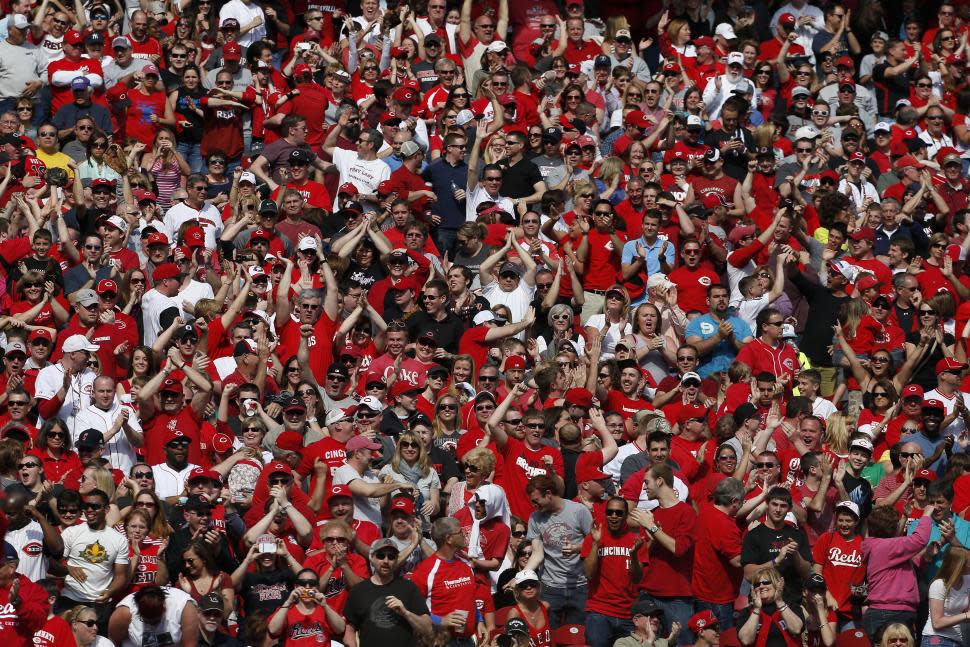 We're having a party 
The Reds have developed into one of the best MLB franchises at staging a party, er game, 81 dates a year.
Nowhere is the ballpark experience better than at GABP, the franchise's eighth ballpark, dating back to the first one in 1867, located where Union Terminal is today.
What makes Reds games so much fun is there is always something going on—on the field, in the stands, on top of the dugout, in the fan zone, on the scoreboard, at the concession stands, on your cell phone.
Be sure to hang onto your ticket, because on a day or night of 11 or more strikeouts of the opposition by Reds pitchers, your electronically scanned price of admission will gain you a free small, one-topping pizza from locally loved LaRosa's Pizzeria.
And if you can be here for a Friday night home game, for gosh sakes, do it. Twenty minutes after the final out, it's Fireworks Night after all Friday games (Reds broadcaster Marty Brennaman calls it "the best in baseball").
As if all this isn't enough, consider all there is to do before and after the game. Not only is there Smale Riverfront Park (green space, fountains and walkways) for the youngsters, there are sandwiches, burgers and dishes galore in The Banks entertainment district, right next to the ballpark.
Whatever you do, don't forget how it all started.
Before, during and after day games, and before and until 8 o'clock on night games—and on all but Mondays during the off-season—the best Hall of Fame and Museum in a major league city will wow you. Each year are new exhibits to complement the 15,000-square-foot space full of baseball stories and history.
Yes, it is always a great year to visit the home of professional baseball.
Written by: John Erardi