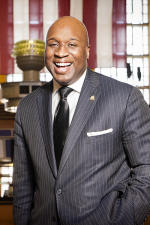 Jason Dunn, vice president of Multicultural Sales and Community Development for the Cincinnati USA Convention & Visitors Bureau, has been named vice president of the board for the National Coalition of Black Meeting Planners (NCBMP).
The NCBMP is a non-profit organization dedicated primarily to the training needs of African American meeting professionals.
"This organization has played a key role in helping to transform Cincinnati into a top multicultural meeting destination," said Dunn. "The bureau has made a commitment to attract more multicultural meetings to Cincinnati. In doing so, we have built an expertise that I can pass along to other members to help forward their careers."
In the last 10 years, Cincinnati has hosted or booked events for 19 of the largest 25 multicultural organizations.
In 2017, the CVB expanded its multicultural and community development department to include sales in order to focus efforts on coordinating and fostering relationships with diverse local, regional and national organizations.
"Jason has spent more than 10 years cultivating strong ties between Cincinnati and multicultural groups," said Michael Laatsch, interim president and CEO of the CVB. "Jason and the CVB have considered the NCBMP to be important partners for a long time, and his new role with the coalition will strengthen that relationship even more."
Dunn, who is the first supplier to be named vice president for the NCBMP, has served on the organization's board since 2014.
"Jason's personal relationships with so many of our members, coupled with his experience from the destination side, brings real value to our executive team," said Frederick Bell, chairman of NCBMP's board.
"Jason's a trailblazer, and it is appropriate that he is the first vice president who is not a meeting planner," added Bell, who also is the Imperial Convention Director for the Ancient Egyptian Arabic Order Nobles Mystic Shrine.
Dunn serves on several boards, including the Greater Cincinnati and Northern Kentucky African American Chamber of Commerce (secretary), the Cincinnati Police Foundation (chair) and the advisory board of the Cincinnati Music Festival. He recently stepped down as board chair for the Southwest Ohio Regional Transportation Authority after four years to focus more on growing Cincinnati as a multicultural destination.
---
About the Cincinnati USA Convention & Visitors Bureau
The Cincinnati USA Convention & Visitors Bureau is a sales, marketing and service organization whose primary responsibility is to positively impact Hamilton County's and the City of Cincinnati's economy through convention, trade show and visitor expenditures. The travel and tourism industry traditionally has been a $5 billion industry in Cincinnati USA, employing 77,000 people in a variety of fields and bringing 26.1 million visitors to the region annually. Visit
www.cincyusa.com
for more.