BLINK is coming back to the Cincinnati region in 2019 and we could not be more excited. This light and art event took over Cincinnati in 2017. Now, it's coming back bigger and better.

With all of the excitement about what the event is bringing to thirty blocks of our city, we started thinking about all the fun we had during this one-of-a-kind event in 2017. Although this is a very large scale event, you can still take elements of it to make your event even better.

Check out these BLINK ideas that would be great for any size event:

Use What is Already There
What's great about BLINK is that it uses what is already in our city and creates something else out of it. Our mural of Rosemary Clooney jumps off the wall for a performance by Ms. Clooney herself. Our Roebling Bridge has been mapped for its own light performance at this year's event. These creators are literally using light to sculpt our city into a new masterpiece. 



How can you take this to your event? It's likely that your event location is not just a blank slate, especially if you choose a unique location. Before you start planning light projections, take stock of what your room already has and figure out if you can make something amazing out of it. 
Make It Immersive
One of the best parts of BLINK is that the attendees are integral parts of many of the light shows. Whether it's taking a photo that is projected on the wall of a building or playing with an oversized Lite Brite, these light projections only become great when the attendees interact with them.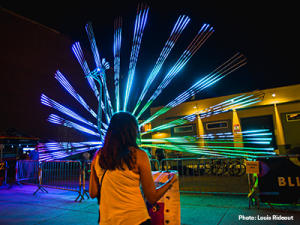 How can you take this to your event?
Figure out how to make your attendees a part of the show. Maybe have them dress in all white so you can do the light projection on them. Or maybe you put them in control of what the show looks like. Whatever it is, find ways to make them creators for the evening. 
Do Small, Separate Events
BLINK
takes over thirty city blocks, and each block includes one or more mini-events within the event. That keeps attendees constantly moving and interacting with something new. And since each show is on continuous loops, there is no worry that you will miss something. Plus, each show is only five to ten minutes long, so you don't need to stay in place for that long. 
How can you take this to your event?
Think of your events as many smaller events. How can each one be interesting enough to keep people intrigued? But then how can you keep all of the events balanced enough so that people want to explore all of them? Don't be afraid to bring your attendees into the conversation with social media and email polls. The input will help you and make them even more excited about attending.
Are you using light projections during your event? And are you involving your attendees in them?